Puzzlers???
The pictures posted on this page are of "mystery" craft sent to me as possible Normans.
Any flickers of recognition please state your opinion in the forum or email me.

This is a photo sent in by Sally. Does not show much upon which to make a judgement. What
do you think??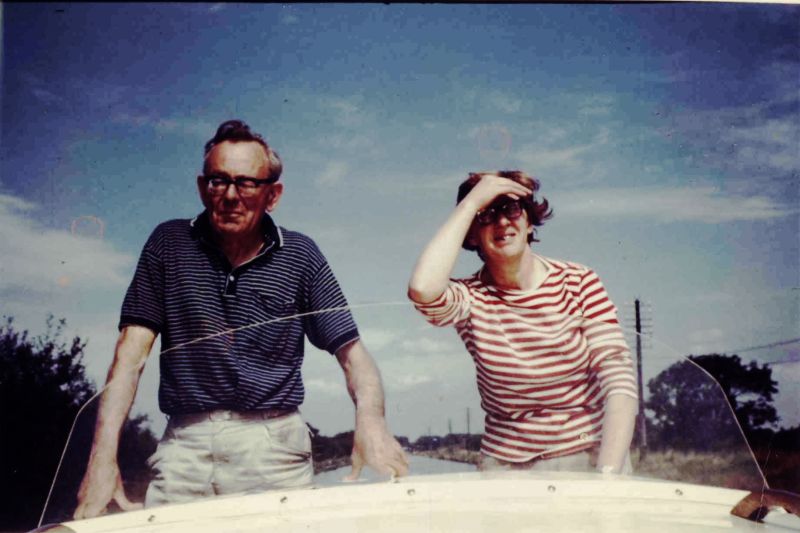 Is it a Norman? Is it a Callumcraft? I don't know!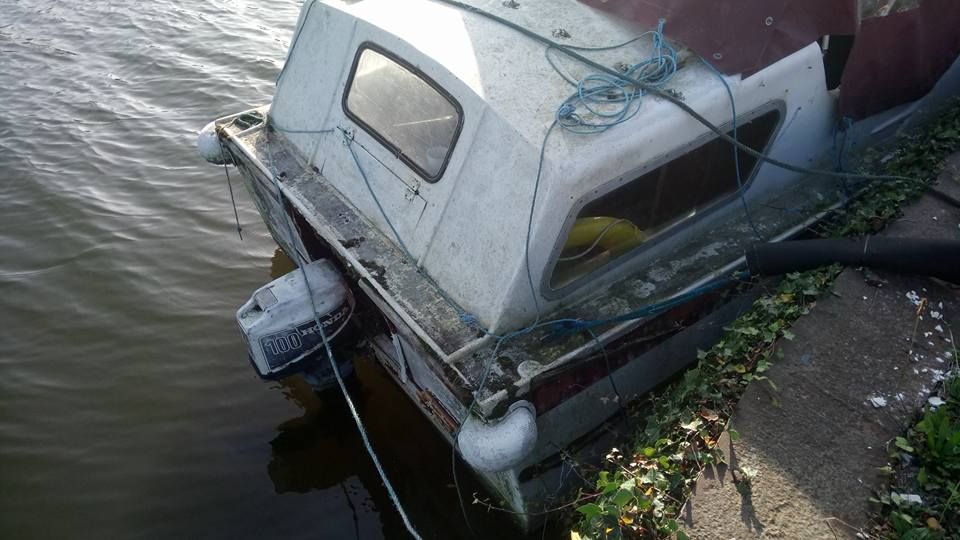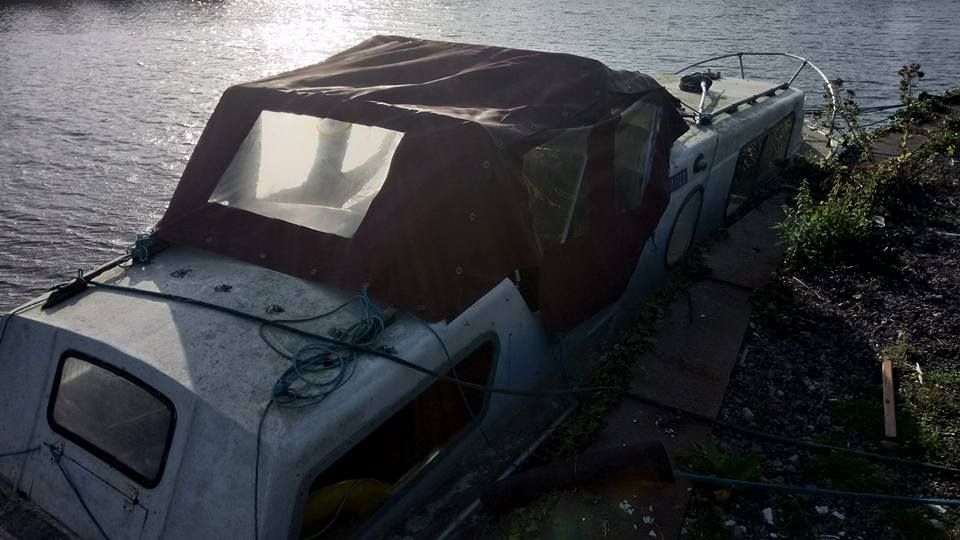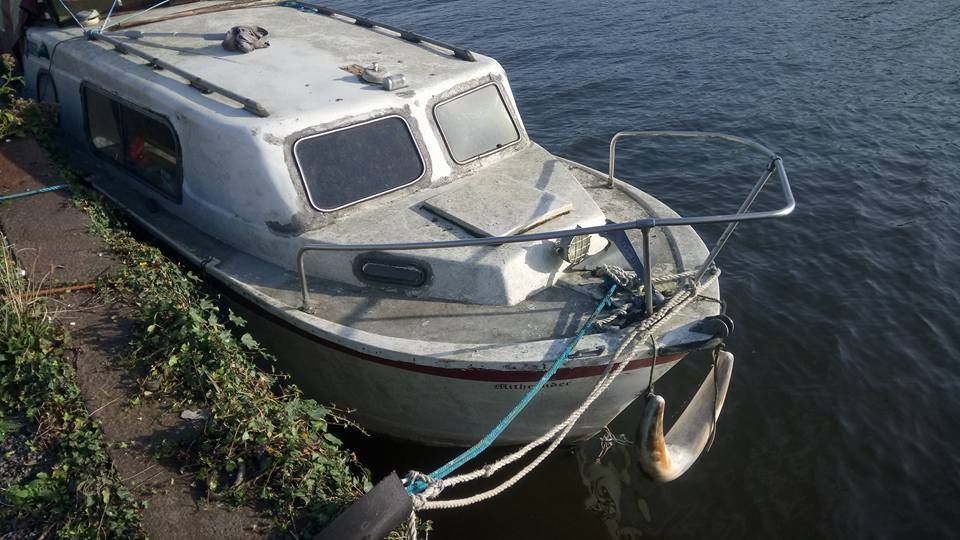 Anyone able to give any information about this engine??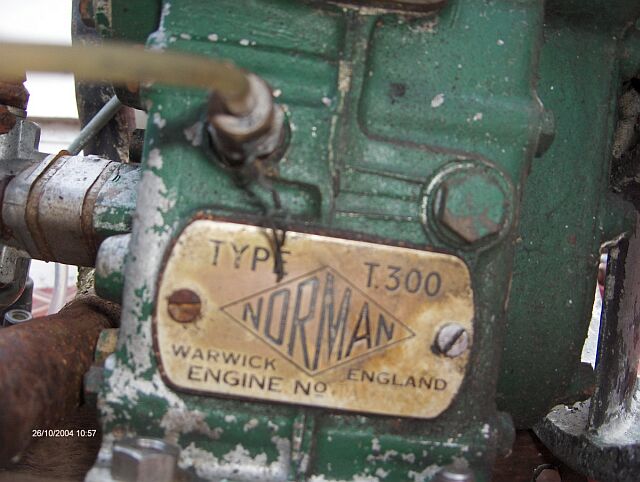 Malcolm found this link which sheds some light! Thanks!!
http://newsgroups.derkeiler.com/Archive/Uk/uk.rec.engines.stationary/2006-12/msg00088.html

A while since we have had one to identify
What is it??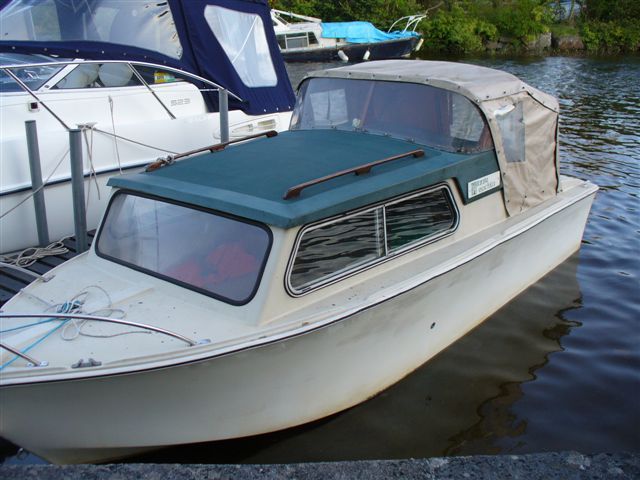 Any ideas what this might be??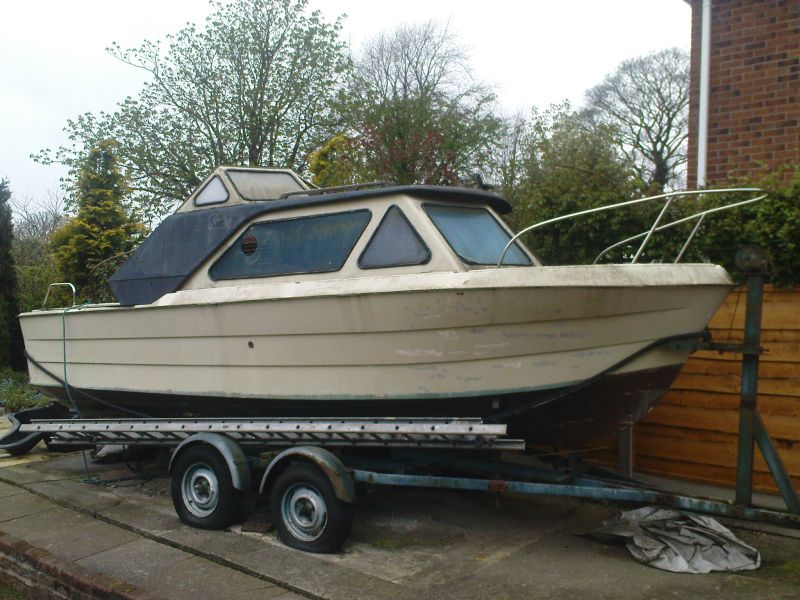 Here's on for you to puzzle over. Not a Norman but it does look familiar! Any ideas?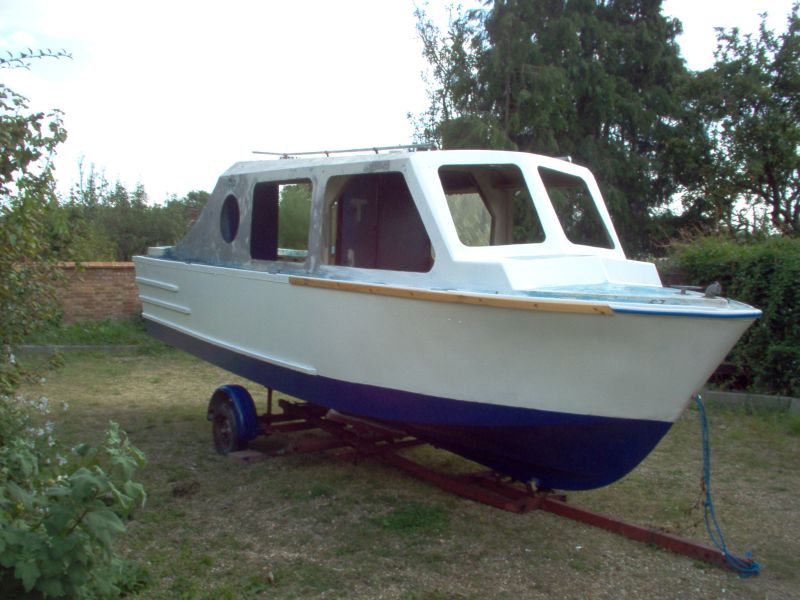 Michael from The Netherlands would like confirmation, or otherwise, if this is a Norman?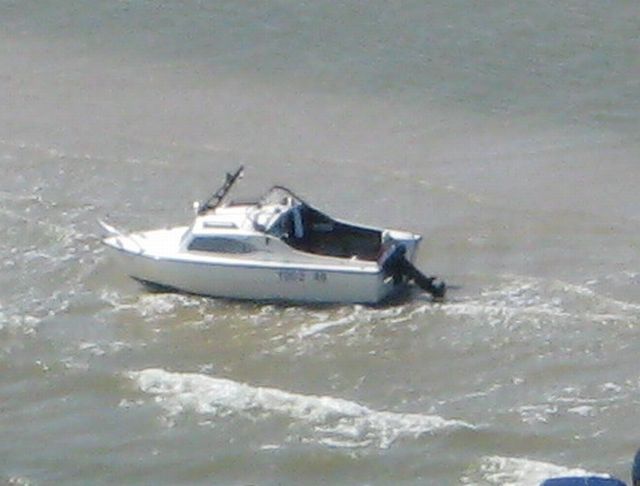 An odd looking piece of ironwork?


This was sold to Tony as a Norman 25. We know better but what is it?


After purchasing this boat last year I have been glancing through the
'Norman' website but do not see similar craft.

I was told at time of purchase she was a Norman 24', As you will see from
the pictures she is a Centre cockpit cruiser, Length is approximately 24'
and beam is 6'10". She has a marinised ford cross-flow engine (pictured).
Basically a shell with forward cabin fitted with two bunks( can be made to a
double) and an empty wash room. Stern cabin is a blank canvas.

Can you assist with some idea of value? and confirmation if she is in fact a
Norman? Reluctantly I may have to sell due to relocation. Transportation
costs may be too high. Any assistance would be much appreciated. She is
currently on 'hard standing' in East London.

Many thanks,
Mark Padfield


Try working this one out? It looks "Norman" but....... ??
And now this from the owner! Thanks Sean!
Hi, I have jus been looking at your website on the 'puzzlers' section, in particular the boat called 'Jandec'.
The chap with sheer madness is quite right, except the length is 26' not 25', the hull and forward section coach house is original Callumcraft, the rear of the coach house is actually the rear section of a Norman 32', she was converted by ken Preston for hire use to a centre cockpit, like i believe all kens boats were.
Bill who supplied the chap with sheer madness his information built every boat in the marina, and as a source of information should be taken with a pinch of salt, the information this time is correct, because he got it from me.
I have had the boat for three years now, and I'm quite happy with her, Jandek was called 'magic' when she was a part of the fleet, and she has been at moons for a real long time, in bay 1, the first boat in. I also believe she was sunk just yards down the canal, as ken Preston hired her out during the winter and the hirers rammed a piece of ice and breached the hull
Jandek as I said is 26', she has a BMC 1.5 b series 'captain' diesel and a tmp 1:1 box, shaft drive, the engine is central, power being transmitted by a Ford Anglia prop shaft.
The spelling of the name on the site is incorrect its jandek instead of Jandek, not that I'm bothered about that at all.
I have been till recently a regular user of the forum on this site (screen name Sean), now the summers back and I'm single again I'm going to get some more use from the old girl.
hope this is of some use to you, regards,
This from Peter Berry (Thanks Peter)
Well - if anyone is interested or doesn't already know, the photos were taken at Moons Bridge Marina on The Lancaster Canal at Woodplumpton in, I guess early season 2006. I know this much because my boat is the Freeman 24 "Sheer Madness" next to it on the hard standing. (This holds another completely different story as it is the 1985 London Boat Show boat commisioned by Val Wyatt Marine on The Thames, who bought the moulds from John Freeman boats after they ceased trading in 1983/1984, intending to re-introduce the marque as the Freeman Finesse, but it wasn't a success and this is the only one ever built. It has a modernized, open plan, interior layout design and is fitted with a BMW B130 petrol engine and mk2 sterndrive. I hold the full history to it including press releases, advance marketing literature etc.) But back to Jandec - my old friend Martin Yates, of Martin Yates Marine at Galgate near Lancaster tells me that Jandec is an early Norman 25 which was part of the Ladyline hire fleet, based at Galgate marina, (now operated by BWML Marinas). How does he know this? Martin's father was the owner of Galgate Marina in the 60's and 70's in partnership with Sam Sherry, another famous boating name in the area. In the 70's he sold out to Ladyline and ran the place as their manager until his retirement, employing Martin as his fitter/engineer. Ladyline ran a fleet of hire boats on the canal and Martin is certain that this is one of them.
And now we have yet another alternative explanation from Peter!
I previously said that my friend Martin Yates remembered it as an early Norman 25 which was once part of the Ladyline hire fleet based at Galgate on the Lancaster Canal.
Well, as is often the case with memories from the distant past, I have now been told a different tale. I have been speaking to a fellow moorer at Moons Bridge who has owned boats on the Lancaster Canal since the late '60's and he begs to differ. He states that it is in fact a Callumcraft, built at Shaw, and fitted out back at what was then Moons Bridge Wharf, home of Preston Hire Cruisers, owned and operated by Kenneth A Preston, the owner prior to the current owners of Moons Bridge Marina, Pat and Ted Jackson. The boat was a hybrid, built on the Callumcraft hull, but with a superstructure made from the moulds of up to three different boats to provide its centre cockpit design to be suitable for hire. It was, and still is fitted with an inboard diesel engine. At the time, Ken Preston ordered one boat a year in order to build up his hire fleet, and Bill, my fellow moorer, states that he assisted with its fitout at the wharf. He says that the boat has remained at Moons Bridge all its life, and was passed on as part of the transfer of the business to the Jacksons when Ken passed away. It is now in private ownership. So there you have it, a completely different story which contradicts the original, although the boat is still said to have been a hire boat.
I don't know which story is true, but perhaps if a condensed version of this is posted in place of my initial report, your members and fellow Norman Boats enthusiasts might be able to make something of it - who knows, I will leave it to you, but thought I had better correct my initial info as there is now some doubt.
Regards once again, Peter Berry.

And here we have Dave's "Atlanta 24". I reckon Peter's got it ....... A Teal - Creighton

Good looking boat though!

Martin wants to know which Norman this is?


Neal would very much like to know what this is??


This boat was sold to Chris as a Norman 20, unless its had severe surgery I think not!
Answers on the forum please!


"Jonesy" wants to know what this boat is?
Looks like a dawnie graveyard......


This is Jim's "Norman - Dolphin"
Its not a Norman for sure, looks very much like a cousin to that other website.....

My husband and I have recently purchased a centre cockpit two cabin cruiser, that we believe is a Norman. We have looked on your web site and can not see a cruiser the same as ours. You have some that are very similar, but our has porthole windows in the front cabin, whereas all the Norman boats on your website have rectangle windows. Please can you tell me whether Norman have to your knowledge ever made a cruiser with portholes. We believe our cruiser is approx 18 - 22ft.
And this is the boat.......
This from Arthur :
First of all what a great site you have running, congratulations. keep it up, we boaters need more stuff like this.
And now down to business. I was checking out your "puzzlers" page and I noticed an inquiry re a boat from Mr & Mrs Ray. Their boat is a Europa 2 x 2 with the small galley located in the cockpit, if my memory serves me well its 18ft 6ins long and consists of an inner fibreglass skin mould which shapes the interior. The Europa was my first boat back in the early 80's. Needless to say its was designed I'm sure, for midgets because the headroom is virtually none existent, however my family (wife, 3 sons and a dog) and I had so much pleasure out of it that it converted me to boating Big Time and since then have had a couple of cruisers and a narrowboat (affectionately known as a skip), but returned to a Nauticus 27ft cruiser for obvious reasons."

Iím trying to positively identify what kind of boat Iíve got! It looks similar to a Norman, but from looking at the website the similarity is only superficial. Have you got any suggestions? Iíve been told it is a Tod Tornado, but I canít find any reference to their boats anywhere on the internet.
Your assistance would be appreciated
Donald Macdonald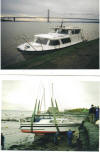 Chris wants help in identifying this, any ideas?

Thanks to Candy who has sent us confirmation that these are indeed Headline Cruisers twofold in the shape of a pristine image of "Lucy In The Sky" which Candy "did up" and an article from "Canal & Riverboat"

And another from Trevor (not me) very similar to Graham & Jo's


As you can see, someone sold this to Graham & Jo as a Norman 25.....
We have today become the owners of a boating project sold to us as a Norman 25. Searching the internet we have come across your website (very impressive) which has lead to doubts about our boat being a Norman at all!
As far as we can see all the Normans featured on your site seem to have a split front screen, ours is in one piece.
I have attached a photo of our yet to be named boat and wondered if you maybe able to identify it for us.
As we are novices where boating is concerned, I am sure we will be refering to your pages for more help and advice. One query we already have is what sort of outboard engine would be suitable for this size craft and do we need a long or short shaft?
Thank-you for your help in advance and look forward to hearing from you

These from Toby who thought it was a Norman. Looks a bit like one of those small Fairlines but that front window sadly looks a bit "Dawny" !!

This from Bill
"My next project it is a 22ft 4 berth cruiser attached are some pictures of it. can you possible identify the make of the boat and or model of it. I have got my work cut out for me on this one as its a project someone started then gave up on after stripping it down. if I can find the make I will restore it to original condition if not I will remodel it."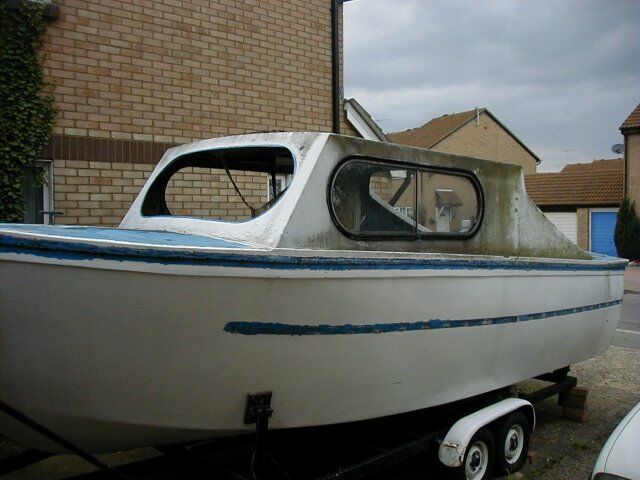 Louis was led to believe this is a Norman. I don't think it is unless its had an extensive topside modification. Lets try and help him identify it.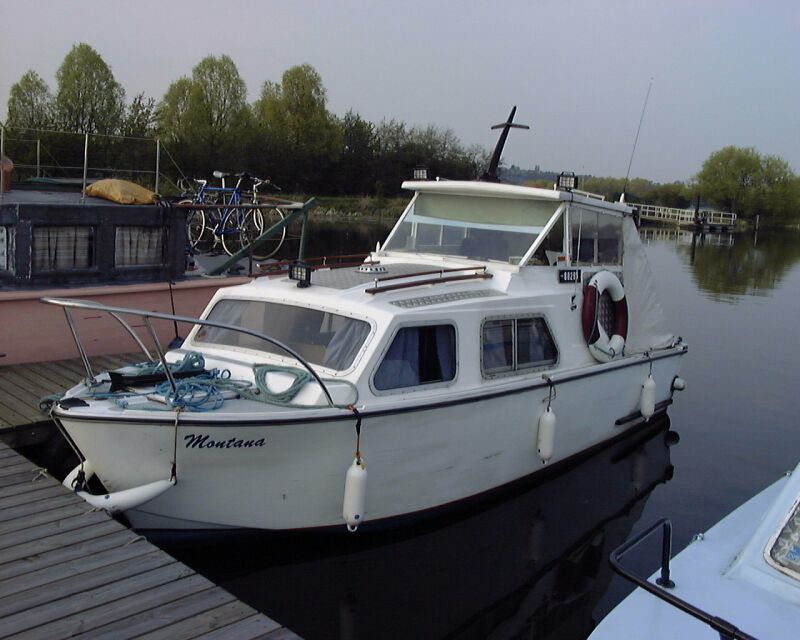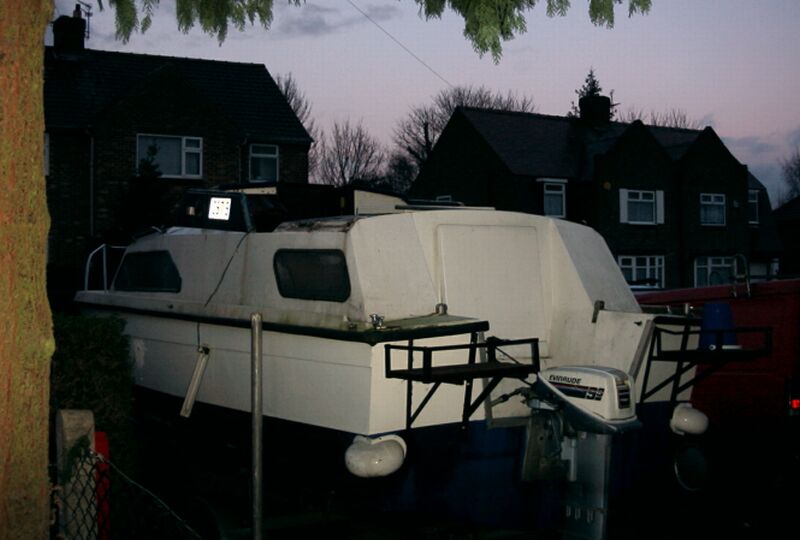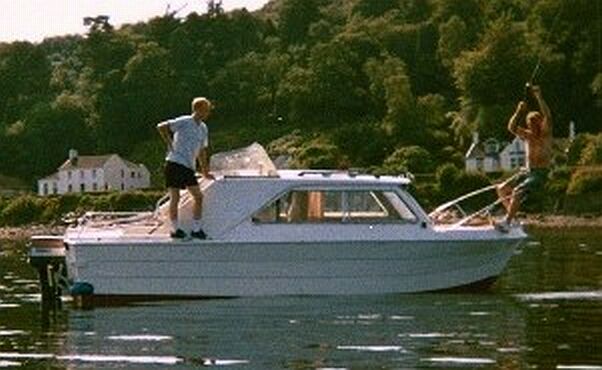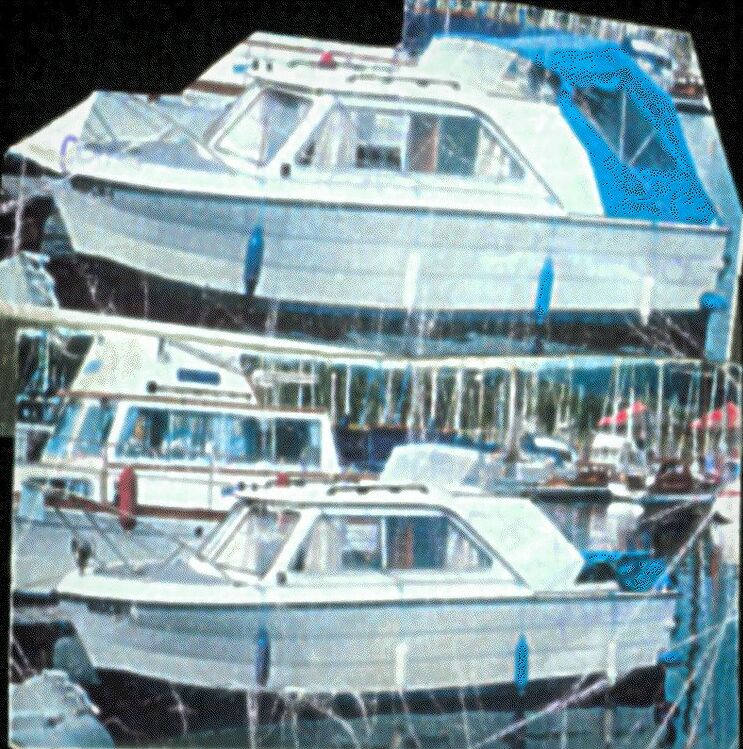 Could this be Kevin's "Stoned Again" ?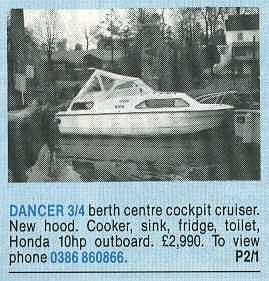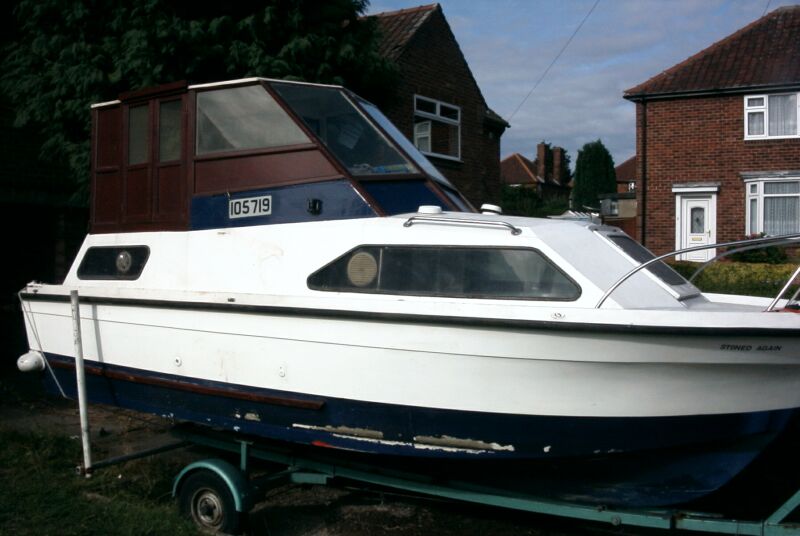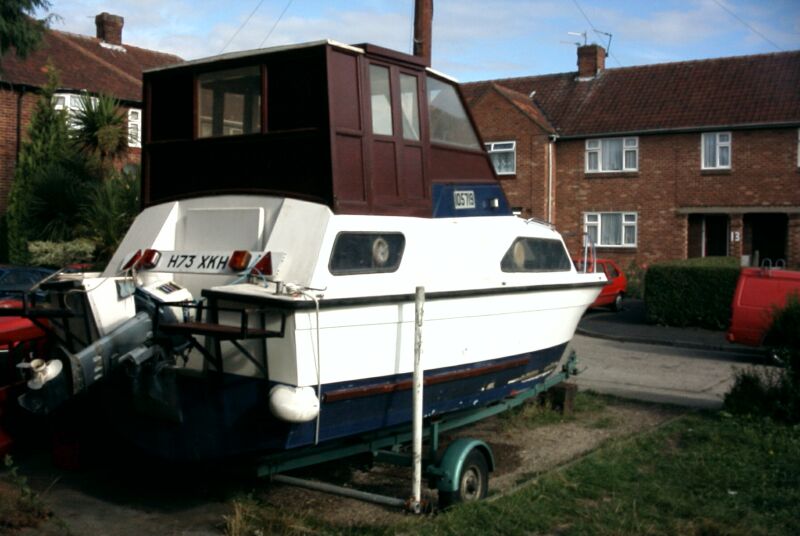 And this one is till a mystery??