All of us will, at some time or another, have encountered these people. You find an impossible problem and along someone comes and fixes it for you as you admire their skills!
They do not have the benefit of web pages and internet access to "pass the word" so this page is for these heroes wherever they may be.
You never know, you may desperately need them one day.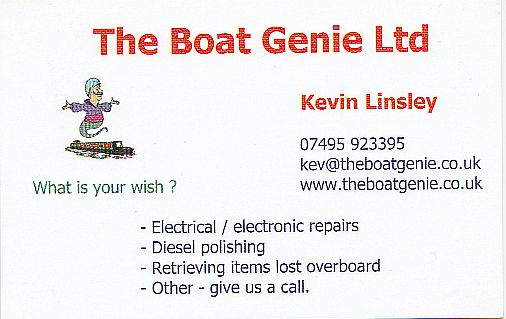 Kevin is based on the Aire & Calder but will cover most of West Yorkshire at least. Rates are very modest for his services and he does not have any call out charges. As well as electrical and electronic repairs and installations, Kevin will also carry out basic engine services and fault finding.
Give him a call!
07495923395
Email - kev@theboatgenie.co.uk

This from William who recommends :-
https://www.facebook.com/R-L-Marine-Services-665722506783049/
Richard did a superb job of putting my 25hp Honda Four Stroke Outboard in good order whilst my boat was moored at Ashwood Marina on the Staffs & Worcs Canal where he does most of the servicing and maintenance work. Richard also works on inboard boat engines and will travel.
Also
BSS Inspector. No bullshit. Very happy to advise and flexible approach. Makes the job a pleasure but knowing the job is done properly. If there is a gas leak he will do his best to find it for you.
And it seems William had problems with his canopy and visited Nauticover
"The canopy of my Norman Jass Four was looking a bit tatty and suffered quite badly as a consequence of the move from Nuneaton to Littleport on the Great Ouse in April this year. I was convinced the canopy would not last another winter and had bodged it up with copius amounts of Duck Tape during the cruise so I made enquiries locally. Alas no one could make me a canopy for very many months, one quoting a waiting list of 12 months.
Looking through eBay I came across an advert for Nauticover in Liskeard, Cornwall and perused their website. Unfortunately Nauticover did not have a template for my boat but having spoken to Phil Beater he could copy my existing cover. The price seemed good and I was confident I had the skills to do the final fitting so I arranged for the old canopy to be taken to Nauticover. Nauticover received my old canopy on the Monday morning. By 3pm on the Tuesday my new canopy was placed with the courier and was delivered to my home at 10.30am Thursday. I unpacked the canopy and was impressed with the quality. It was better made than the old canopy. For example, the plastic windows: on the old canopy were just glued/welded. On the Nauticover canopy they were glued and double stitched.
I was dreading the job of fitting, having to work alone and in strong winds trying to get the job done before the rain set in but I was pleasantly surprised. The job was finished in just three hours and much easier than I expected, not bad considering I had done nothing like this before. The Nauticover canopy fits like a glove and looks really good, a great improvement to the appearance of the boat. I would fully recommend Nauticover. I would suggest that If in doubt telephone Phil and discuss the job with him. Common sense is the most important skill required to fit it.. Nauticover does have templates for very many boats including lots of Norman models so for those sending the old canopy may not be necessary.
From my experience I would be grateful if you would mention Nauticover and record my comments on your Norman website in the appropriate section.
"

Before we acquired "Hunky 'B'", we had a full survey on her carried out by a local surveyor - Graham Freeman of Tayman Services. Graham is also a qualified boat gas engineer and a partner in NABSE. His website is at http://www.tayman-services.co.uk.
I have used Graham on a number of occasions since the survey, particularly for gas work, and have found him thoroughly reliable and interesting as well - he explains what he will do, what he is doing and why he is doing it. In our marine, there is a Nauticus 27 who owner also uses Graham and whose experience with him mirrors my own.
I have no connection with Graham other than as a very satisfied customer but would have no hesitation in recommending him to anyone in the Northampton and surrounding area who has a need of the services Tayman can offer

Oliver and others highly recommend Andy at A.C. Coach Trimming in Bedford for any canopy repairs or canopy making. Excellent workmanship and reasonable prices!
07885 658462

Frank Holman (Ollie Ollman on the forum) offers Boat Safety Examination service in the Nottingham Derby Leicester area. Further afield would attract travel expenses. Frank also offers Norman owners a 10% discount!
Find the details here ....

Neil found these folk in Leeds who claim to be able to make windows for most of the Norman range including aluminium windscreens. They will also refurbish windows but do say that it is often more economic to have new ones.
Kellett Engineering of 59, Hill Top Road, Armley, Leeds, West Yorks. LS12 3PX.
Tel: 0113 2639041

Laurie and, I think, Oliver, have dealt with these good folk and highly recommend their services!
3 Stirling Way, Northfields Industrial Estate, Market Deeping, Peterborough, PE6 8LG.

Mac recommends this company to you
"This company has been great , has even got all my 12 volt electrical utility fittings and wire etc, i cant sing there praises enough, very very helpful, The chap at the local place I got them from , also will repair starters , dynamo's, alternators and deals in all marine electric, components for marine engines old and new. Sells and repairs eberspacher equipment and components, and Durite electrical bits"
AUTO.S.I.D.E Repairs LTD
Pelham Street Works
Off Morris Green Lane
Bolton, Lancs, BL3 3JB
. Tel;- 01204 61791, Fax 01204 656013,

Can I introduce Peter (nay I charge nowt for turning up) Lumb
Peter is an auto electrician working in Wakefield and the surrounding area who loves working on boats and he is a bit good at it too !
He's done a couple of jobs for me. Not least, sorted out that infernal Sterling alternator controller for me.
His charges do not give you palpitations either. Around £20 and hour.